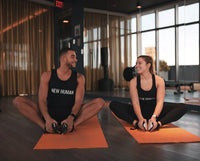 Where Performance Meets Comfort
Created to inspire confidence in women & men inside & outside the gym.
New Human donates 10% of its profits to support social impact initiatives.
SHOP NOW
"Comfiest American made clothes I've ever worn"
"High-quality performance materials that will elevate your style, but won't abandon the function you'll require for an intense workout."
"I feel so strong in my New Human Tank top!!!"
"I love how I can wear this to hike, to studio classes, or just hanging out with friends"
"All of my friends have been complimenting me every time I wear my gear! It's a confidence booster :)"
WHY BUY FROM US?
THE BRAND
We are New Human, based out of Boston, but we have worked with people all around the world. We believe that everybody should have access to quality products at an affordable price.
This is the reason all of our products are selected after extensive research to ensure that our inventory is filled with items that fit our vision
THE MISSION
We are about more than fitness. We've positively impacted thousands of lives around the world. New Human donates a percentage of its profits to support social impact initiatives.